Shades of Beige to use in Living Areas:
What paint colors are most popular for new home living rooms? Beige and Gray continue to top the charts. Below are the names and color codes for the most popular beige paint colors.
---

Top 5 Most Popular Shades of Beige for a Living Room:
Living rooms tend to be the most used room of the home - after the kitchen, of course. Key living room features - such as ceiling style, fireplace materials, and flooring - will help determine the best paint color schemes.
Want to see some more "daring" paint color choices? These living rooms are painted in blue, green, and yellow:
Get ideas for your Raleigh new home paint colors from these beige living rooms!
Beige Paint Color Code #1: "SW 6106 Kilim Beige"
Beige paint colors are popular for many reasons, including their neutrality and flexibility.
Beige walls will serve as a backdrop, rather than focal point, allowing you to show off architectural features such as window and wall trim, interior columns, stone fireplaces, and ceiling details.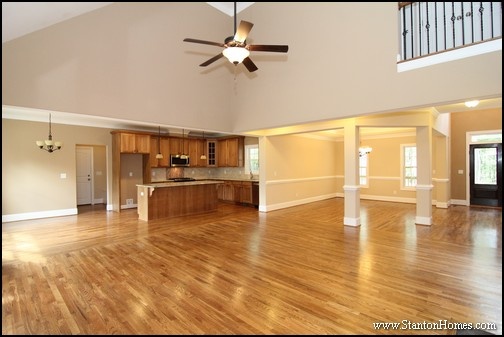 This living room - picture from a version of the Country Farmhouse - is painted in SW 6106 Kilim Beige by Sherwin Williams.
Beige Paint Color Code #2: "SW 7036 Accessible Beige"
A neutral beige paint highlights the natural tones throughout the hand-stained wood, stone archway, stone fireplace, and tile flooring in this Raleigh new home living room.
This living room - picture from a version of the Coquery Cottage - is painted in SW 7036 Accessible Beige by Sherwin Williams.
Beige Paint Color Code #3: "SW 7527 Nantucket Dune"
Beige tends to work equally well in large, vaulted and small, open great room layouts. In this living room, a beige wall paint accentuates the black fireplace surround, dark light fixtures, and medium wood hardwood floors.
The craftsman trim - painted white - adds to the texture of the room.
This living room - picture from a version of the McCoy - is painted in SW 7527 Nantucket Dune by Sherwin Williams.
Beige Paint Color Code #4: "SW 7714 Oak Barrel"
Livnig room finishes and features should work together with your paint selection.
For confidence when choosing a paint color, you may want to apply large samples, on-site, to meld your colors with other features within the room, especially when integrating custom wood design work, like this "boat" style hardwood ceiling.   Many suppliers will sell "sample size" cans of paint for just this purpose.
The beige paint color helps draw in the hardwood ceiling stain for a soothing, vacation style home design.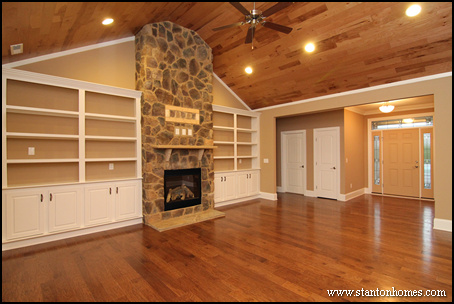 This living room - picture from a version of the Lakehouse - is painted in SW 7714 Oak Barrel by Sherwin Williams.
Beige Paint Color Code #5: "SW 7687 August Moon"
Bright white, glossy trim and wainscoting panels are a great design technique to break up any paint color, including a strong beige.
A lighter beige paint keeps these open concept rooms feeling light and airy.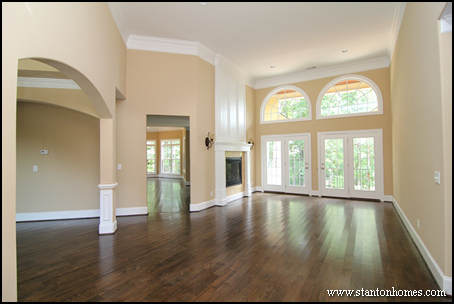 This living room - picture from a version of the Remington - is painted in SW 7687 August Moon by Sherwin Williams.
Looking for living room design ideas? Here are popular living room layouts, in Raleigh custom homes:
Contact Stanton Homes at 919-278-8070 or visit www.StantonHomes.com to learn more about building an NC custom home - with the help of an interior design expert throughout the selection process.
New Custom Homes in the Raleigh Area - and throughout central North Carolina
Stanton Homes makes building your new custom home easy!  We'll guide you through the entire process.  Your custom home is going to be extraordinary when you create it with one of the nation's top fully involved builders and the high quality materials and craftsmanship that our reputation is built on. View available homes here.
Call 919-278-8070 to find out more about new homes in the Raleigh area. 
Articles copyright Stanton Homes 2006-2018.  Unauthorized use is not permitted.  Provided for informational purposes only, no claims are made by Stanton Homes regarding the validity of any statements.  Please note:  all listing information per MLS, and current as of posting date.  Information subject to change.  Stanton Homes does not make claims to ownership of  any lot listings, but can work with homebuyers to purchase available lots and build.  Home plans to be approved on an individual basis, subject to neighborhood restrictive covenants and lot restrictions.  Ask for further information regarding any community, lot or floor plan.  Photos represent typical homes and details of each neighborhood, to help highlight different options available in the Raleigh/Triangle area.  No claim of ownership is made to homes or land pictured.
Save